The Truth About Cancer – Ultimate Live Symposium!
The Truth About Cancer – Ultimate Live Symposium!
An investment in your health is the greatest thing you can ever do in your lifetime. Health is more valuable than houses, cars, jewelry, or fabulous vacations. None of those things mean anything if you're sick. The Truth About Cancer – Ultimate Live Symposium!
The Most Exclusive Event in the History of Natural Health
Here at The Truth About Cancer, we work hard to bring you the most cutting-edge science as well as emerging natural health treatments that mainstream media simply doesn't report.
No matter how safe and effective these modalities are, no matter the number of lives saved, it doesn't change the "official" view. The media, medical establishment, and pharmaceutical giants refuse to engage in legitimate conversation and even actively campaign to prevent the knowledge or investigation of these valid therapies.
They won't do anything that upsets their status quo…their bottom line.
Holistic health practitioners and doctors who have embraced natural techniques to save their patients are openly mocked. Some have had their reputations destroyed and their careers targeted but we all keep going.
Because it's a matter of life and death.
For the last two years, The Truth About Cancer has brought you in contact with brilliant men and women at the top of their fields. They've featured on our videos, given us interviews, and written exclusive articles for our readers.
Now we're taking it one step further. It's time to do something powerful, something amazing in our fight to prevent, fight, and beat cancer. It's critical that you join us for a once-in-a-lifetime event that will give you access to people who are blazing the path to stopping cancer forever!
The Ultimate Live Symposium to Fight Cancer!
Replay of October 14th through 16th, you have the opportunity to be part of something that can absolutely change your life. We're bringing together more than 40 speakers who are going to give more than 60 presentations about what you can do to keep this devastating disease from destroying your life or the life of someone you love.
You simply cannot afford to miss it.
I'm talking about The Truth About Cancer – Ultimate Live Symposium where we're bringing together luminaries in natural health who have agreed to share their research, insight, and incredible belief in the effective (but silenced) methods to stop the deaths caused by cancer.
Enjoy three days of LIVE talks by more than 40 of the most influential and respected names in the natural health field. Right now, we've sold out of tickets to join in person but you can still be with us as we live-stream this unbelievable collection of men and women dedicated to the prevention and eradication of cancer in the human body.
The Truth About Cancer – Ultimate LIVE Symposium is your chance to take part in something that's never been done before and witness history being made!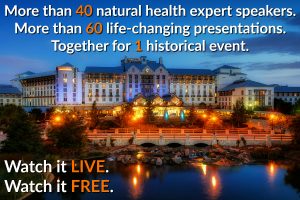 These speakers are superstars in the natural health industry. Never before have so many come together to educate the public about the real ways you can stop cancer right now, today. Sign up right now to be part of history.
It's the next step in our quest to stop cancer from taking your life or the life of someone you love. You need to be part of this spectacular event. For your present and your future, to prevent cancer from ravaging your body or claiming your life, you need to join us.
Don't wait. The Truth About Cancer – Ultimate Live Symposium is going to change the lives of millions and you should be one of them! (Click on banners above to sign up to watch for FREE.)